Designer natural wooden bed for cat and dog with double-sided washable cushion and handles.
Reference:
Woodys/H Double face
This indoor pet bed for cats and small dogs is made of 8mm thick Swedish and Finnish pine wood, with a birch bottom and finished with fine sanding. With a sober and essential design, this object can be placed in the most varied contexts of furniture. Easy to clean, the pet bed is equipped with handles for a comfortable lifting and 7cm high cushion containment sides. The base stands on non-slip and non-scratch feet for delicate surfaces. The washable cushion is made of polyester-cotton and padded with soft recyclable synthetic fiber and it is available in double-face version with waterproof fabric and floral pattern. All materials are recyclable.
Dimensions  23,2x16,5x4 In - - - cm 59x40x10.  Useful dimension  22,4x15,15 In --- cm 57x38,5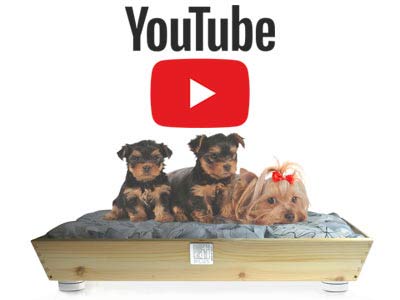 3 other products in the same category:
Design pet bed for small size dogs and cats.
Indoor pet bed for cats and small dogs.
Wood pet bed with double face cushion for small size dogs and cats.