Cuddly pet bed, luxury indoor basket for cats and little dogs, made of red / transparent methacrylate.
luxury basket for adorable little dogs and cats, which knows how to host in his wings your sweet friend, always looking for cuddles and caresses. For this reason Cuddly pet bed is different from all others, innovative in design, in non-toxic and shock resistant material. Cuddly basket is unique and particular, has containment wings adorned with pretty little hearts, and metal fixings in chrome-plated steel. The basket is ideal for small dog, or demanding cats who adore sleeping by resting their back on curved surfaces. Cuddly basket has a machine washable cushion, covered with high-weight fabric, resistant to scratches and stress from our precious friends. The indoor basket for small pet, is in kit and can be assembled very easily. The DDplus pet design accessories are designed, developed and manufactured in Italy, and all materials are 100% recyclable.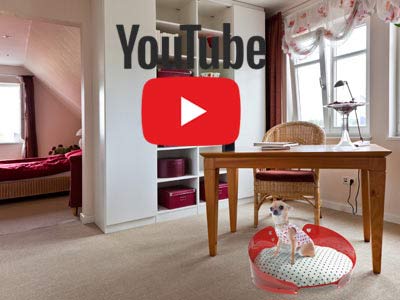 3 other products in the same category:
Best dog bed made of brown-transparent methacrylate with removable and washable pillow.
Luxury and modern  indoor dogs and cats bed of  blue bright methacrylate with remowable cushion for those who love the color in its most refined expression.
There are not enough products in stock
Luxury dog bed of transparent methacrylate with removable and designer pillow, Hi - Tech designer expression, for those who prefer the charm of the luminous object, in modern and minimal home furnishing.